There's more to every workplace!
At CSI we specialise in storage and handling solutions for all industrial and commercial environments.
From the supply of a few bays of shelving in the office, to the design and installation of a fully integrated warehouse and production facility, we can offer solutions and project management, tailored to your needs.
Our solutions team is here to help each and every one of our customers get more from their workplace. They know that within every workplace there is hidden potential. They will help to find that extra space, make your environment safer and create a more efficient workflow.
Our aim is to offer more choice, more support and more guidance than other workplace providers. The bringing together of our industrial solutions team, market leading catalogue, e-commerce website and team of experienced workplace professionals gives us an unrivalled edge in the marketplace today.
CSI is the workplace provider that gives you more. Whatever it is you're in business to do, we're in business to help you to do it.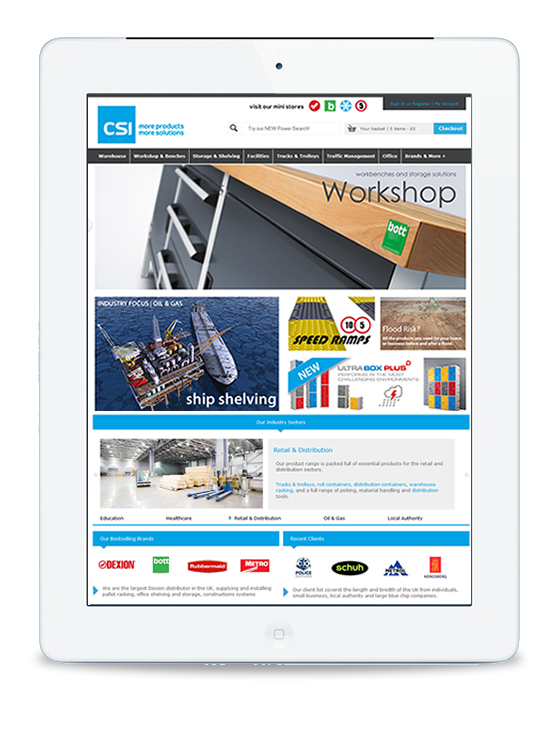 MORE PRODUCT CHOICE
Discover more than 10,000 industrial and commercial workplace products at the click of a button with the CSI Products online shop.
Choose from the top workplace product brands in shelving and storage including Dexion, Bott, Rubbermaid and Metro.
Buy with confidence! We implement security measures to industry standards. All sensitive information is protected both on and offline.
Download our latest catalogue and product brochures.
Sit back and relax – view product demonstration videos online. Look before you buy.
Dexion brand store
for the best selection and online prices across the Dexion range, including shelving, pallet racking and rack protection products.
Visit our
Bott Workplace
site is dedicated to this leading brand. Buy online from the full Bott range with up to 17.5% off list pricing.
Our
CASE STUDIES
View some of our case studies.